Joan Lunden's New Eco Friendly Cookware Now on QVC
From her days on Good Morning America to becoming a best-selling author, Joan Lunden has continued to be very busy writing books, home decor line, speaking engagements and more.
Most recently, this month she launched a new eco friendly cookware line exclusively available on QVC.
Created in partnership with The Cookware Company, Twiztt by Joan Lunden Collection is eco friendly cookware featuring a ceramic non-stick coating that's free of the chemicals PTFE and PFOA (For more information, there's a very extensive explanation PTFE and PFOA on Wikipedia).
The following eco-friendly cookware pieces are available from the Twiztt by Joan Lunden Collection: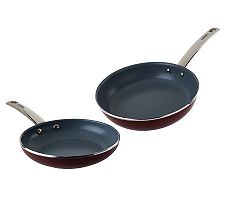 This eco-friendly cookware set includes an 8″ skillet and 10″ skillet. Features PFOA and PTFE-free non-stick surfaces, ergonomic stainless steel handles and heavy-gauge aluminum construction. They're also oven-safe to 482F.
This eco-friendly cookware set features a covered skillet featuring a non-stick surface that's PFOA- and PTFE-free. There's also a melamine bowl with a notched cutting board that locks onto the rim for simple food preparation.
These two eco-friendly cookware sets look really promising, and hopefully Joan has more eco-friendly cookware and accessories in the works!