Clever Toy Storage Ideas for the Family Room
The family room is one of the busiest rooms in the house. It serves as a place to entertain guests as well as a popular place for kids to play with their toys. Because of this, you are probably looking for ways to easily organize and store toys so there easy to access AND easy to store away.
The following are some really clever toy storage ideas for the family room that can keep that pesky toy clutter under control.
Stylish storage cubes for the living room
Love this idea from Thrifty & Chic! You don't have to spend a fortune to create a stylish, yet functional area to store away the toys. Love the pillows too!
Try adding cute storage baskets to a bookcase

If you already have a bookcase, add some cute and colorful storage baskets that add some color as well as more storage for toys and books.
Add tote bags to the back of a closet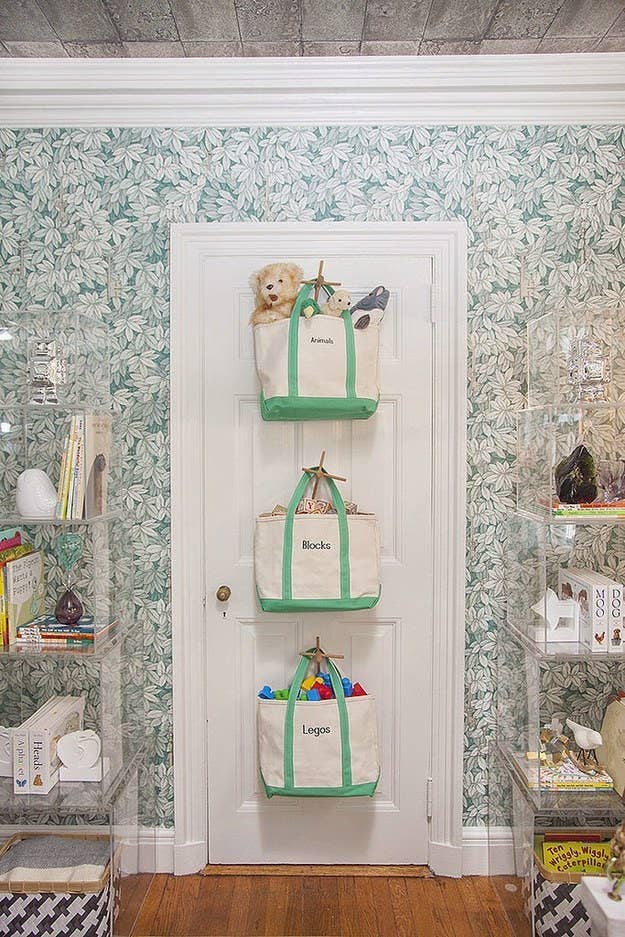 This brilliant idea from Play Chic Interiors is perfect if you're running short on space. Why not have the extra large canvas tote bags inside a closet near the living room? Instead of them being embroidered, you could just buy different colors for each type of toy.
Gre
Use hanging closet organizers to store away board games and toys

Not just for sweaters, these closet organizers are also handy for storing away board games, or even toys and books.
Stylish storage baskets perfect for the TV room
Hide away the toys and books with these stylish nautical inspired storage baskets underneath the TV.
DIY under-the-chair storage bin
A fantastic way to repurpose a shipping box into something stylishly practical. Our House Now a Home has an easy tutorial to make this storage bin.
Organize your ottoman to store toys
A great storage solution for smaller toys like Legos and cars. Organize each group of toys using plastic shoe boxes. If needed, label each shoe box with the type of toy so toys can stay together instead of the Legos getting mixed up with the Hot Wheels.
Organize small dolls and toys with shoe organizers
Thought over-the-door shoe organizers are just for shoes? Think again, now small toys like Hot Wheels, Barbies, My Little Pony, Shopkins and more can be easily organized in your living room closet.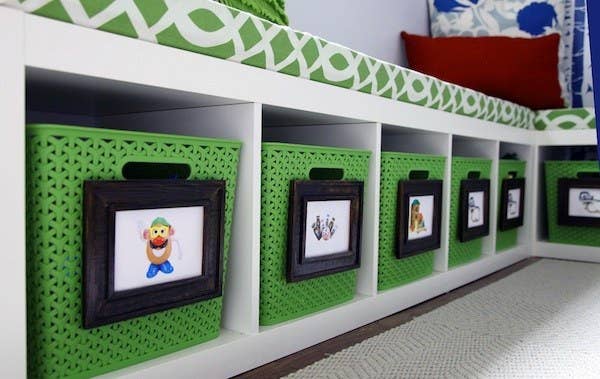 Organize your storage bins with picture frames! You can either print out pictures of each toy category or print the names. The picture frames can be found at Dollar Tree.