Two Items I Started Buying in Bulk Online
Just recently I took the plunge and started buying a few favorite items that my husband and I use consistently throughout the year
Mind you, normally I wouldn't consider buying in bulk online. But the time, convenience and  lower price with free shipping is what hooked me on it.
Buy in Bulk Item#1: Hair Color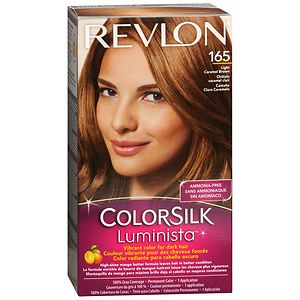 However, about 6 months ago I was at Wal-Mart looking for a particular shade of haircolor – not too light and not too dark.
Well, I came across a few boxes of Revlon Luminesse haircolor in this shade above (165-Light Caramel Brown).
I never saw this brand of Revlon hair color before. But it looked exactly the color I was looking for. And about $5 cheaper than the other brand I was thinking about buying.
Unfortunately, when I went back to buy some more, they were no boxes of this awesome hair color to be found. And the Revlon ColorSilk Luminista brand seems to be a difficult hair color to find in any my local stores.
Fast forward a few months later and Drugstore.com had a promotion going on for 20% off hair care purchase and 10% off Revlon hair products. And, free shipping.
So, I thought let me see if they sell my favorite haircolor. Yeah, they did, and with the discounts, I ended up paying $3.23/box. That's a price I would never find at Wal-mart.
Then the other day, my husband didn't have his favorite Campbell Won-Ton soup in the house.
I really do balk at buying it because it's almost $3.00 a can. $3.00 for condensed soup. I guess I still see condensed soup as being less than a $1 a can.
Anyway, I've tried to get him to eat Chicken Noodle soup instead. Nope. "It's not the same", he says.
So, since I had such a positive experience buying hair color in bulk, how about Campbell's Won-Ton soup?
Amazon had the best price – $29.79 minus $3.00 coupon plus free shipping.
Although I'm not saving piles of cash buying in bulk, it's really the time savings and convenience that really convinces me.
Anyway, I'll let you know about other items I decide to buy in bulk.